This past Saturday, Jake and the Mountain Men proudly donated their time to a worthy cause: The Kindness Over Muscular Dystrophy project is dedicated to finding a cure to Duchenne Muscular Dystrophy. This was their first annual fundraiser, and it was a huge success!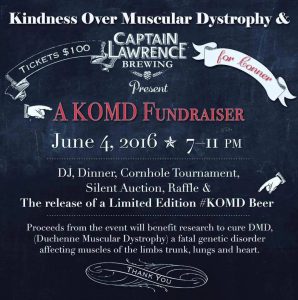 Captain Lawrence Brewing Co. hosted the event in their spacious campus in Elmsford, NY. The event featured live music from yours truly and The KOMD Band, a live DJ, dinner, cornhole tournament, silent auction, raffle, and the release of a limited edition KOMD beer.
Some noteworthy food favorites of ours included Chez Lenard (specifically Le Hot Dog Garniture Suisse), Northern Smoke, Willy Nicks, and Croton Creek Steakhouse & Wine Bar (fried Philly Cheesesteaks? Don't mind if I do!).
Parent Project Muscular Dystrophy & KOMD raised 30k in ticket sales. Tickets were $100 each and sold out a month prior to the event! If you missed the opportunity to participate there are numerous ways you can help contribute to the cause.
Members of Jake and the Mountain Men were honored to join The KOMD Band in performing Tom Petty's hit, "I Won't Back Down," in honor of the cause. Jake looks forward to returning to the Captain Lawrence campus some time in the near future. Stay tuned!
Set 1
Corduroy
867-5309/Jenny
American Girl
Hurts So Good
My Best Friend's Girl
Heart And Soul
(What's So Funny 'Bout) Peace, Love and Understanding?
Jailbreak
Pressure
Set 2
Are You Gonna Go My Way
Santeria
Dancing With Myself
I Wanna Be Sedated
Sympathy for the Devil