Jake And The Mountain Men are the self-proclaimed "Loudest Cover Band in Westchester County." But who are they? And more importantly, who the hell is Jake? And where the hell is he?!
In the early 1990's, a group of kids from John Jay High School in Cross River, NY started a punk rock cover band. Not a single one of these kids were named Jake, but that didn't stop them from coming up with the inevitable band name. Over the next 15 years, Jake And The Mountain Men split up, reunited, performed for hundreds of drunkards, split up again, went through vast numbers of lineup changes (none named Jake), played in a plethora of bars packed with drunkards, split up yet again, etc.
In 2006, a founding member got the itch to get the band back together again. Former band members were contacted. A tentative song list was sent out. A rehearsal was scheduled. When this newest incarnation of Jake finally united, the magic was back.
Members of the band, each now armed with over 15 years of playing under their belt, began testing the waters by tossing out new song ideas. Each idea was attempted and given a vote. No song ideas were discarded before given a trial run, with some minor exceptions (Rush's 20+ minute opus, "2112", comes to mind). This method resulted in an eclectic song list of over 100 tunes, spanning over 40 years of rock, pop, punk, grunge, and new wave music. With the creation of the massive song list, the band coined their catchphrase: "Songs you never knew you needed to hear again."
The group spent months rehearsing tunes and perfecting their set list. In March of 2007, Jake And The Mountain Men officially reunited, unveiling their new song list to a wildly receptive audience. A few months later the band played their biggest, most exciting gig to date: New York City's Central Park.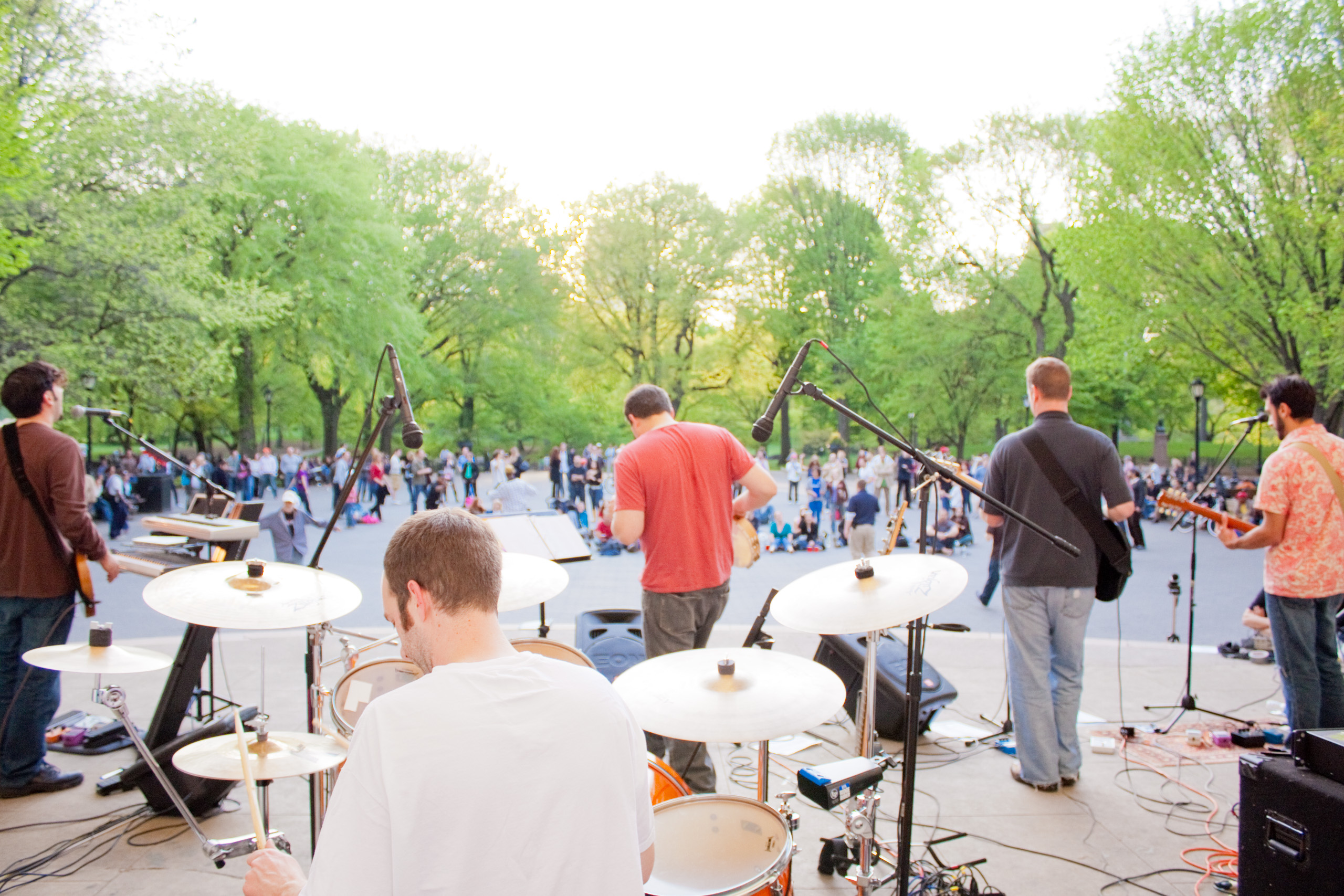 "Has Jake outgrown the Mountain Men? Well, I'm not really sure, but you have yourself a good evening."


–Reverend Al Sharpton (Central Park, New York, NY; July 7, 2007)
The band continued to play (very loudly) to packed local venues over the next couple of years. In 2009, the group returned to the infamous Naumburg Bandshell at Central Park. Shortly after, drummer TSM departed the band for personal reasons. Uninterested in a replacement, the remaining members of the group formulated an acoustic song list; expanding their repertoire even further with the addition of folk music selections. Jake continued, billing themselves as "Loudest Acoustic Band in Westchester County™," until going on another extended hiatus in 2010.
Sometime in the autumn of 2012, TSM was shamelessly begged to pick up his sticks again. He eventually agreed to play "just one more show"; an 'Unplugged' style set featuring acoustic guitars and drums. Naturally, one show quickly led to two shows, then three, and so on. By 2014 the band had relinquished their acoustic guitars, breathing a second life into their 2007 reunion.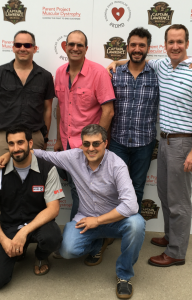 In March of 2016, Jake was honored to welcome its newest full-time member, Greg "Monith" Saracino– longtime friend and fellow musician (Ricky Blues Band).
With their expansive song list, Jake And The Mountain Men continue to rock the house down across New York and Connecticut.
Check out Jake's upcoming shows, download a bootleg, or book the band to play at your event!
JAKE AND THE MOUNTAIN MEN – Band Members:
Chris "Mussels" Marinaro: Vocals, Harmonica, Guitar
Scott Hickey: Bass, Vocals, Guitar
Brendan "Fafafohi" Saadat: Guitars, Vocals
Dino Covelli: Guitar, Vocals, Keyboards, Bass
Greg "Monith" Saracino: Drums, Percussion
Also Sometimes:
Todd Budich: Drums
Casey Carpenter: Vocals
Brett Puchir: Guitar
Colin Rose: Keyboards
Crew:
Brian Porco: A1/Live Sound Engineer
Pete Weigand: A2/Live Sound Engineer
Previous Members:
Kevin Baker: Percussion
Chris Burke: Keyboards, Vocals
Kenny Cascioli: Bass
Andrew "Chip" Chiappinelli: Keyboard, Vocals, Tickling your Soul
Rob Collins: Kazoo
Adam Colangelo: Guitar, Vocals
Scott Fowler: Drums
Kristen Lawton: Vocals
Robert Mobley: Bass, Vocals
David O'Kelly: Bass
Tim Malone: Bass
T. Scott "TSM" Marinaro: Drums, Cowbell
Matt Rocchio: Bass, Vocals
Ed Roddy: Bass, Vocals
Chris Wallen: Guitar
Scotty Wood: Guitar
Jake Plays Songs by:
AC/DC, Alice In Chains, The Allman Brothers Band, America, Audioslave, Badfinger, Barenaked Ladies, Bon Jovi, The Beatles, Blur, The Bogmen, David Bowie, The B-52s, Cake, The Cars, Cheap Trick, The Clash, Elvis Costello, Counting Crows, Cracker, Jim Croce, Crowded House, The Cure, Deadeye Dick, Devo, Dishwalla, The Doobie Brothers, The Doors, Eagles, Electric Six, Everclear, Five Man Electrical Band, Foo Fighters, Franz Ferdinand, Peter Gabriel, Grateful Dead, Green Day, Huey Lewis & The News, Looking Glass, Billy Idol, Incubus, James, Jane's Addiction, Billy Joel, The Killers, Kings Of Leon, Kiss, Knockout Drops, Lenny Kravitz, Live, Loverboy, John Mellencamp, Men At Work, Midnight Oil, Steve Miller Band, Modern English, Van Morrison, O.A.R., Oasis, OK Go, OutKast, Pearl Jam, Tom Petty & The Heartbreakers, Phish, The Police, The Presidents Of The United States Of America, Elvis Presley, The Proclaimers, Queen, Radiohead, The Ramones, Red Hot Chili Peppers, R.E.M., The Rolling Stones, Bob Seger, Simple Minds, Smashing Pumpkins, The Smithereens, Spacehog, Rick Springfield, Squeeze, Stealers Wheel, Steely Dan, Stone Temple Pilots, The Strokes, Sublime, Talking Heads, Tears For Fears, Temple Of The Dog, Thin Lizzy, Toadies, Tommy Tutone, Toto, Traveling Wilburys, U2, Violent Femmes, Weezer, The White Stripes, The Who, Pete Yorn
Band Aliases:
Jake and the Moon Men (collaboration with Moonspank)
Jake and 2 Libras (collaboration with 3 Libras)
Blake and the Fountain Pen
Snake and the Gambling Den
Pat and the Plateau People
Aaron and the Archipelago Androids
Gary and the Gully Guys
Thomas and the Topographical Trio
Curtis and the Causeway Collaboration
Ian and the Isthmus Ingrates
Wally and the Waterfront Wagoneers
Terry and the Terraqueous Team
Pauly and the Peninsula Pack
Estéban and the Escarpment Squad
Ronnie and the Ridge Rascals
Vince and the Valley Vikings
Clyde and the Cliff Clique
Frank and the Fjord Fellows
Darryl and the Hillside Boyz
Eugene and the Canyon Kids