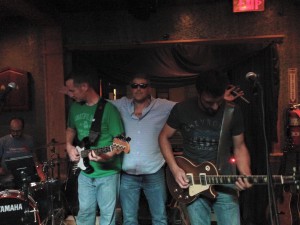 Jakes, you really came out of the woodwork to make it to this show! It did not go unnoticed– we love you all! Thank you so much for continuing to support our aging, cranky asses.
Jake isn't used to being on stage, at least not since our infamous show at Vintage in White Plains back in 2009. Looking out and seeing so many familiar faces made it a very fun night for us.
Lucy's prefers that bands play two longer sets, and it just so happens that we prefer it that way too. If you didn't get a chance to see this show, we're working on setting up another date so stay tuned!
Set 1
The Boys Are Back in Town
Sweet Emotion
Last Nite
Heart and Soul
My Best Friend's Girl
Buddy Holly
Possum Kingdom
All Along the Watchtower
I'm Gonna Be (500 Miles)
Billie Jean
Just Like Heaven
Africa
What I Like About You
Hurts So Good
Are You Gonna Go My Way
Honky Tonk Women
Sex On Fire
Set 2
Santeria
Pressure
Corduroy
Everybody Wants to Rule the World
American Girl
In the Meantime
New Age Girl
Night Moves
It's the End of the World As We Know It (And I Feel Fine)
Don't You (Forget About Me)
Jesse's Girl
867-5309-Jenny
I Melt with You
Dancing with Myself
I Wanna Be Sedated
Suspicious Minds
Hey Ya
Under Pressure
Easy Lover
Baba O'Riley
Blister in the Sun
Laid
(Alright, Fuck It, Let's Play) Everlong